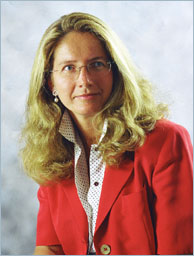 Born in Luino (Varese-Italy) in 1960, Pierpaola Bernasconi took a degree in Medicine and Surgery at Pavia University (Italy) and married a Medical colleague in 1993. She began painting at the age of eight, exhibiting her works successfully in several Italian galleries. During her University studies, Pierpaola was responsible for the graphics and the realization of various scientific publications. Upon successfully completing her studies, Pierpaola directed her artistic inspiration towards jewelry design, attending various courses in design, goldsmith's art and gemology at famous Italian schools in Florence and Vicenza.
Even today, Pierpaola is still a student at the Gemological Institute of America in order to keep up to date with the current trends. Pierpaola's creations are manufactured by skilled craftsmen at the Fusari workrooms, who had already collaborated with artists such as Sassu, Fiume, Pomodoro, Consagra.

Toghether with them, Pierpaola has exhibited some of her creations at the Classic of Kortrijk (Belgium), at the European Parliament in Strasbourg and at the Diamonds Museum, Antwerp. Pierpaola was awarded second prize at the contest "Tahitian Pearl Trophy Italia" 2001, in the set category, with REBUS ©. Pierpaola was finalist at the "29th Pearl Design Contest", Tokyo 2003, with the necklace MAREA ©.
In september 2004 Pierpaola exposed at the pavilion "Shapes of Jewelry", Orogemma-Vicenza, where she gave a speech on "Haute Couture Jewels", at the Designers' Forum. The artist lives and works in the Principality of Monaco, where she owns a jeweler's shop in Quai Jean-Charles Rey, in the romantic residential quarter called Fontvieille. Here, not only can you buy Pierpaola's creations, but you can also plan and project with her, jewels "made to measure", which she will have manufactured by expert Italian goldsmiths.

Her painting is linear, rich in poetic allusion, moved by an inner strength which runs through her, pervaded with a sweet sorrow. She makes us aware of her loyalty and freedom of expression and motif, which establish the fulcrum of her lyrical inspiration and expressive strength". This is what they wrote in the 1970's, of her work as a young girl.
After a long pause during which she had enriched herself, morally and intellectually, she resumed, with renewed dedication and maturity, the broken dialogue. Her pencil gifts us clear and simple lines, but at the same time original, unique; with her favourite technique, water-colour, she gives form and colour, strength and expression to precious articles, but with an almost everyday simplicity.