In spring 2002 Pierpaola Bernasconi opens her first shop "Bernasconi Gioielli" in quai Jean-Charles Rey, in the romantic residential quarter called Fontvieille, Principality of Monaco. Here not only the artist proposes her creations, but also offers the service "Haute Couture Jewellery" : it is possible to plan and project with her, jewels "made to measure", which she will have manufactured by expert Italian goldsmiths. Most articles are unique pieces or are produced in limited numbers. In this way, an idea, a sketch, become unique objects, to enhance the beauty and the personality of the client.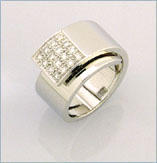 Ring in white gold and diamonds.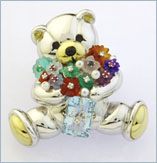 Brooch-pendant in white and yellow gold, aquamarine, agate, rock crystal, rose quartz, amethyst, lapis lazuli, carnelian, diamonds, rubies, sapphires, emerald, pearls.